Have endless fun with the 3 in 1 Cake Maker! The Fiesta Cake, Waffle and Donut Maker is designed to create scrumptiously sweet treats and most importantly special moments. You can brighten up those down days with delicious donuts that you know will put a smile on your loved ones faces, or bond throughout your baking, creating cupcakes you'll devour and laughs that you'll cherish. If you're feeling really creative, indulge in a sugary Saturday breakfast with your family and decorate your own individual waffles with endless tasty toppings and syrup.
Do you hate having to rummage through the cupboard to find the right baking tin? With the Fiesta 3 in 1 Cake, Waffle and Donut Maker, you can now just easily swap the removal plates to cook whatever you're craving. You'll also get to experience all of the excitement of baking without the chore of cleaning up! Simply wipe down the plates after use or remove them and put them in the dishwasher, for an easy clean up.
---
Non-stick and dishwasher safe
The non-stick cooking plates can be quickly wiped clean ready for a second batch, or simply remove them and pop them in the dishwasher when you're finished.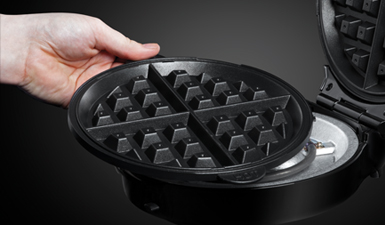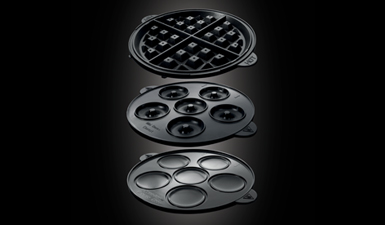 3 cooking plates
Choose the plate you require, add your mixture and cook up a batch of goodies. You can make 4 waffles, 6 donuts or 6 cupcakes per use – and once your mix is ready, you can just refill and repeat if you want more.

2 year guarantee +1

3x plates

Cupcakes

Mini donuts

Non-stick coating

Waffles
---
3 pairs of cooking plates:
Waffle plates (4 pieces)
Donut plates (6 pieces)
Cupcake plates (6 pieces)
Non-stick and dishwasher safe
Self-locking lid
Thermo-insulated handle
Vertical storage
900w