Vegetable slicer and shredder for salads, stir fry, hash browns. For veggies and cheese.
Vegetable slicer and shredder: What's in the box?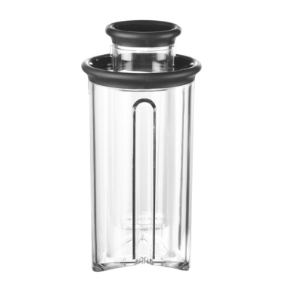 2-in-1 Food pusher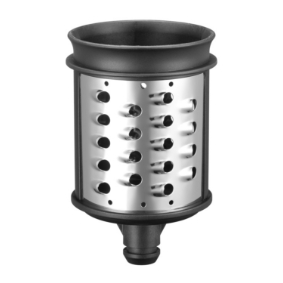 Coarse shredding blade (6 mm)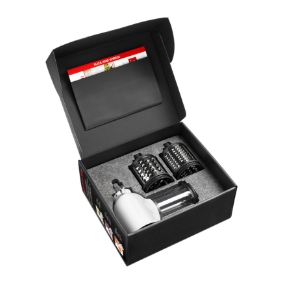 Storage case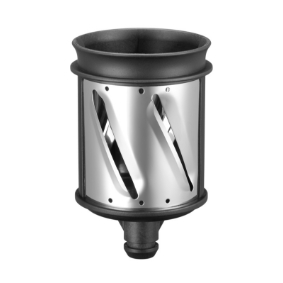 Slicing blade (3 mm)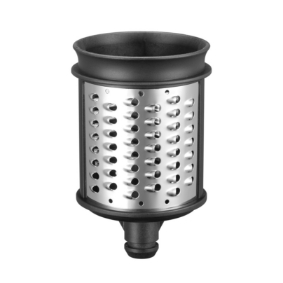 Medium shredding blade (4 mm)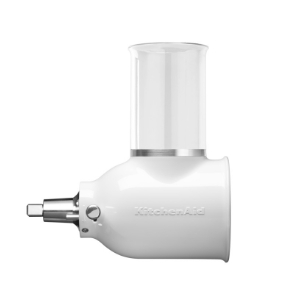 Body of the vegetable slicer/shredder
egetable slicer and shredder for fresh ideas
Pack more fresh food into your life with a versatile vegetable slicer and shredder. Prepare ingredients from carrots to chocolate with this optional attachment.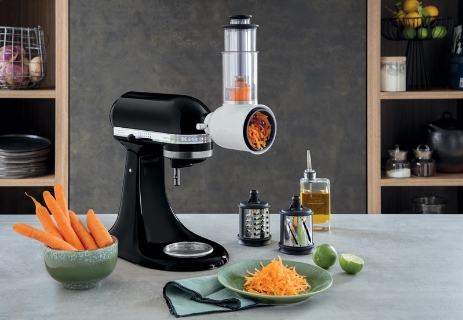 Easy slicing and shredding
You can use the 2-in-1 food pusher to feed in and slice potatoes and cheese, as well as shred carrots and cabbage in medium or coarse textures.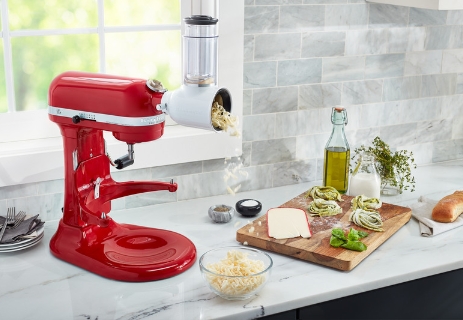 Quicker everyday tasks
Add crunchy and healthy ingredients to your salads, starters, sides and meals with the quick-change blades of stainless steel. It's nice and easy.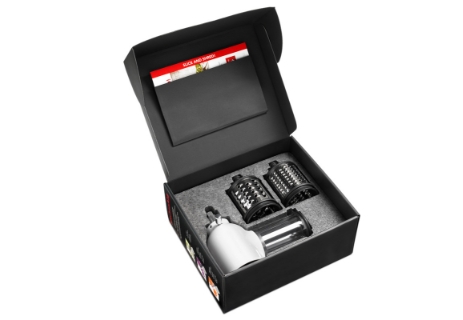 Simple to store away
This KitchenAid vegetable slicer and shredder attachment comes with a handy storage case to keep everything neatly organised.
Salads inspired by global cuisine
Rainbow salad, Greek salad, American layered salad, Middle Eastern or Thai Chicken salad. There are so many inspirations from around the world to get your mouth watering.
It takes a fraction of the effort with this effective stainless steel vegetable slicer and shredder tool. The slicing blade slices vegetables like cucumbers and celery. The medium shredding blade is perfect for cheese and firmer vegetables such as carrots. The coarse shredding blade is ideal for powering through a cabbage for delicious coleslaw.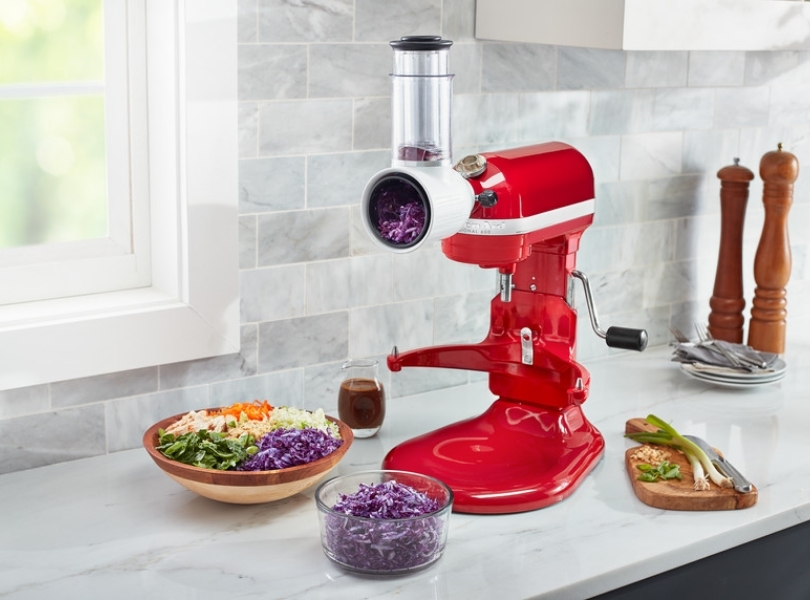 Hash browns to tacos
Think beyond salads too. Grate cheese for a plate of hot, melty tacos and shred potatoes for crispy homemade hash browns. Make a big pile of vegetables like butternut squash, cauliflower and cabbage ready to throw into your stir fries, medleys and casseroles.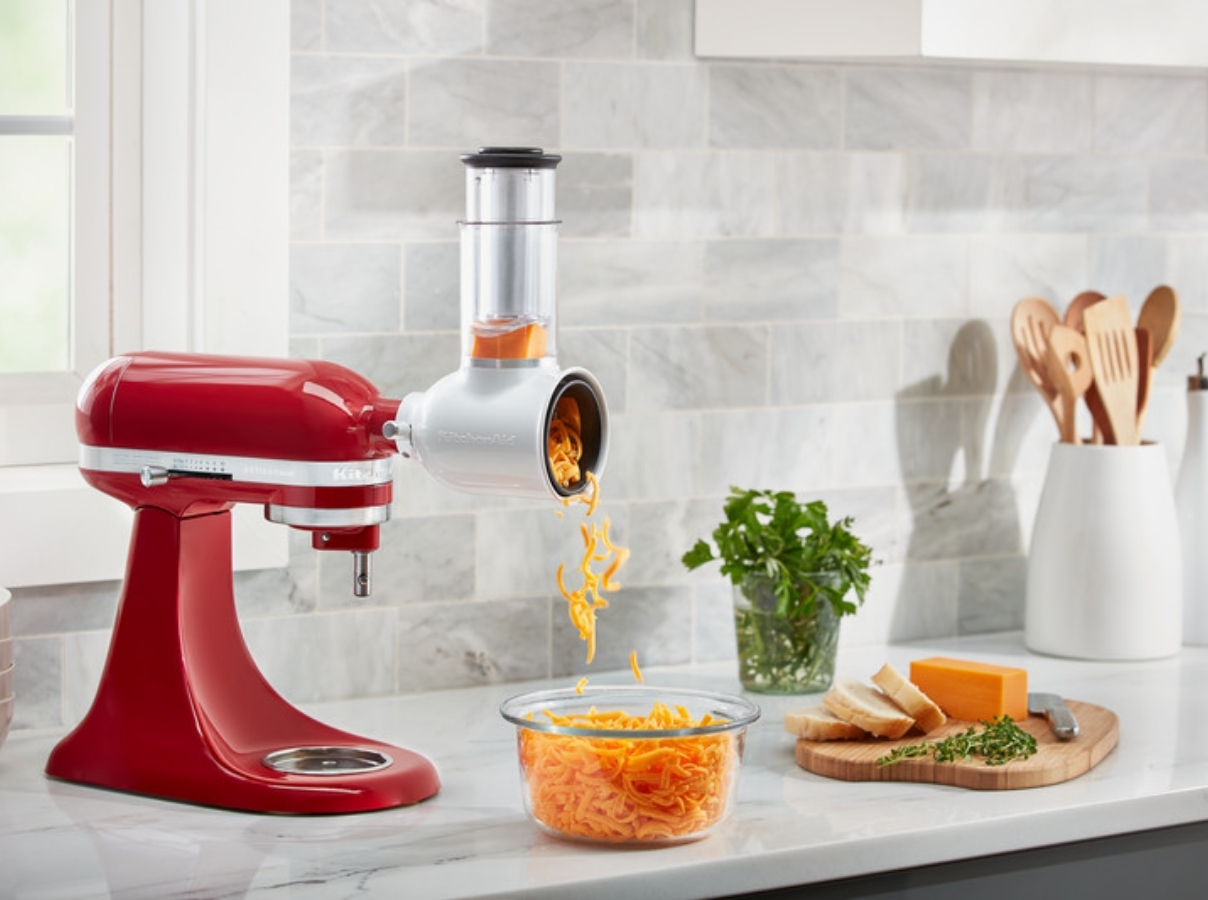 Step by step: how to use it
1. Secure the slicer/shredder to your mixer (sold separately) and tighten
2. Choose your blade and slide it into the attachment housing until it clicks
3. Place a large bowl underneath to catch your food as it comes out
4. Cut the ingredients into sizes that fit in the feed tube
5. Turn the mixer to Speed 4, then use the food pusher to feed the food in
6. Easily remove and swap the blade by pressing down on the release lever while pulling out.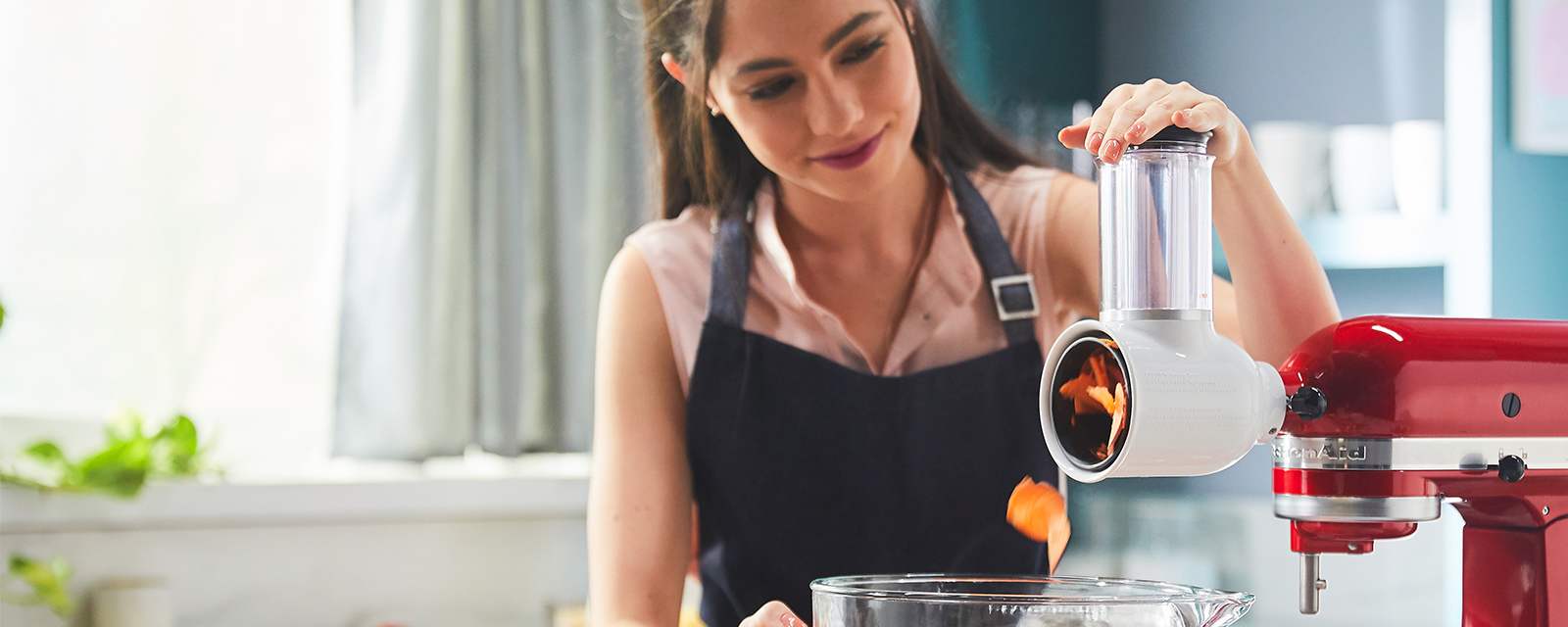 Bundle it up with a super kit
If you love the look of the vegetable slicer and shredder and feel inspired to do even more, you can get it in the Mixer Attachment Set along with two other attachments. Grind up fresh ingredients like meats and fish and strain fruits and vegetables to make jams and sauces.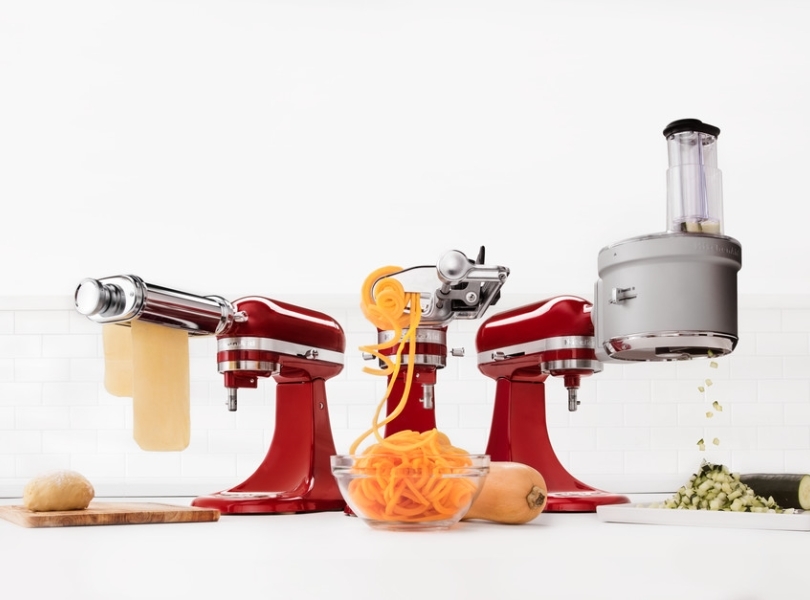 Ideals ingredients for your creations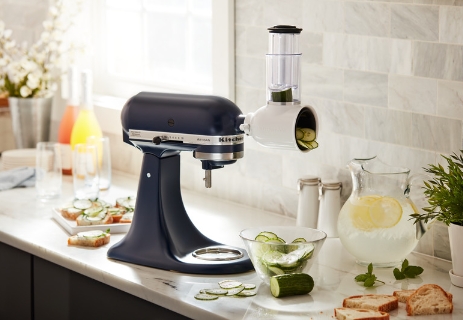 Perfect for the food slicer
Get creative by slicing carrots, zucchini, celery, cucumbers, peppers, apples, onions, courgettes…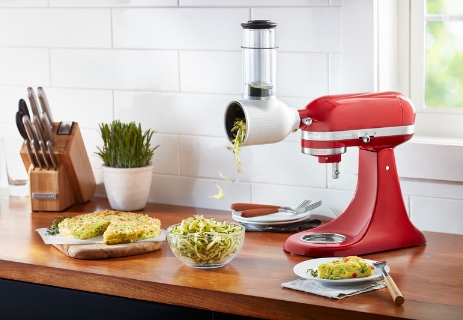 Perfect for the food shredder
Experiment with shredding hard cheeses, carrots, cabbage, potatoes, cauliflower, radishes, onions, chocolate, dry bread, crackers…
Vegetable shredder and grater extension pack
Amplify your creativity. The vegetable shredder and grater extension pack (sold as an extra) enhances this attachment with three more stainless steel drums. You can use these for the fine shredding of dark chocolate, fine grating of hard cheeses like Pecorino, and coarser grating for potato and other vegetables like zucchini.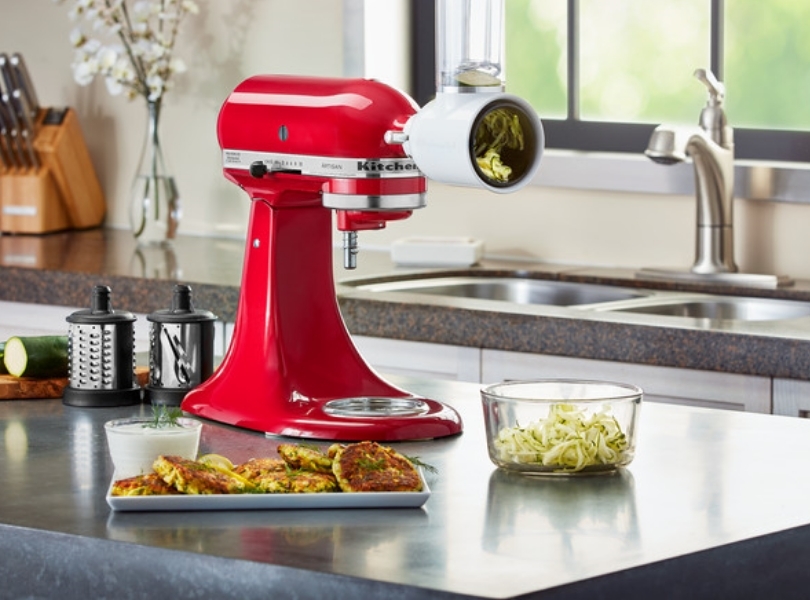 Tip for safe slicing and shredding
Keep those fingers safe. Always use the included food pusher provided by KitchenAid for your convenience. You'll get the best results by feeding in only one item at a time with the food pusher, for both small and large diameter fruits and vegetables.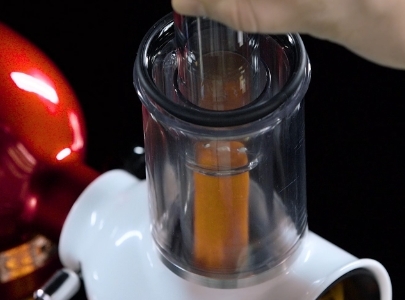 VEGETABLE SLICER AND SHREDDER 5KSMVSA
Make it easy to prepare fresh food in a flash with this optional attachment for the KitchenAid stand mixer (sold separately). Reach for it next time you have basic slicing and shredding tasks. Make cauliflower rice, cucumbers for salads, carrots for stir fry, cheese for tacos, cabbage for coleslaw, potatoes for hash browns, courgette for casseroles and more. Sturdy and versatile, the attachment can be secured to the multipurpose attachment hub whenever you're creating in the kitchen. It includes three blade drums which simply click into the housing. Choose your preferred blade for either slicing, or medium and coarse shredding. Cleaning up is convenient as you can pop the blades and food pusher into the dishwasher. The body (housing) itself is not dishwasher-safe so give that a wash with soapy water.