Bread bowl: what's in the box?
The dough mixing bowl with lid helps you to achieve quality results with every loaf.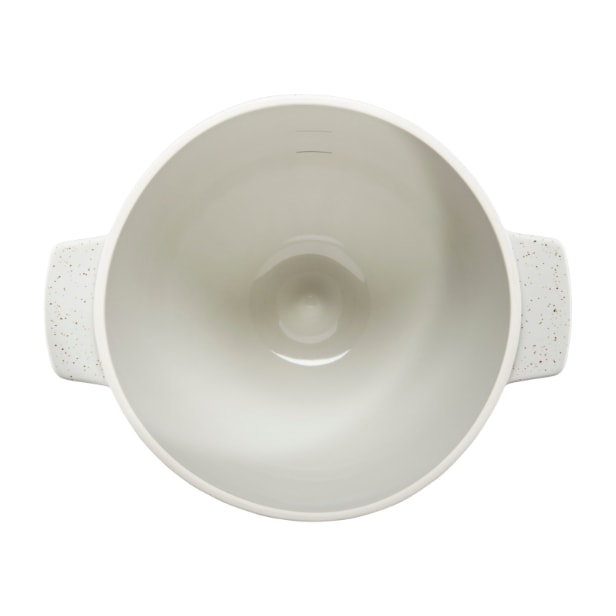 4,7L ceramic bowl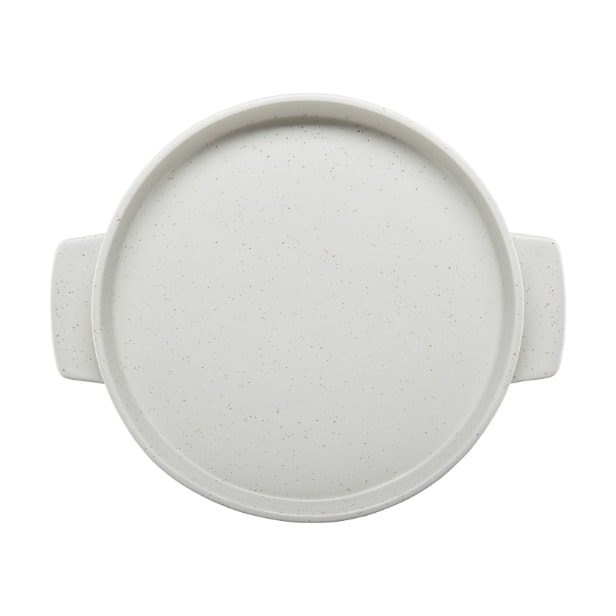 Ceramic lid for oven baking
How the bread bowl simplifies baking:
Bake craft-quality bread at home
Easily mix, knead, proof, and bake
Long-lasting, durable ceramic bowl and lid
4.7L capacity for just the right size loaf
Made for KitchenAid tilt-head stand mixers (fits both 4.3L and 4.8L tilt-head mixers).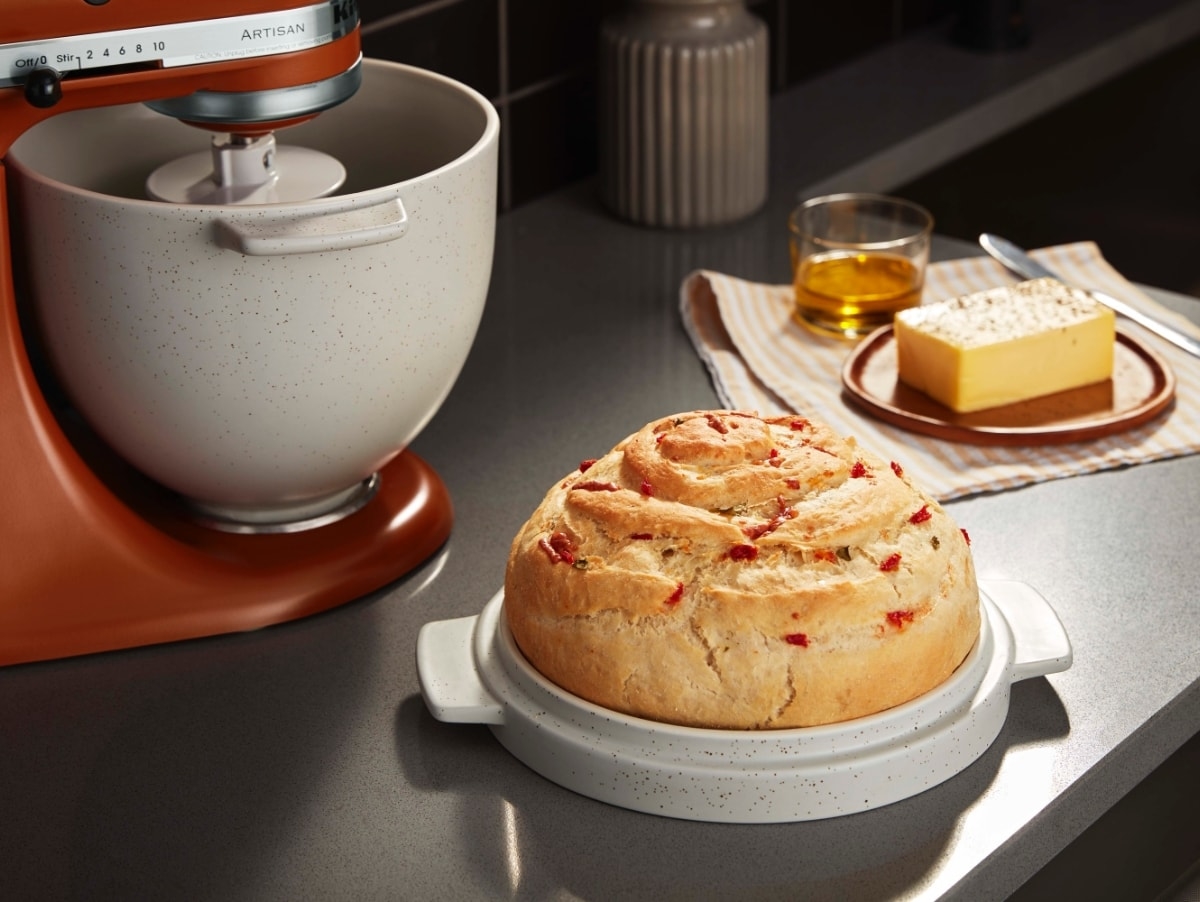 Make and bake in one
Have the confidence to bake the perfect bread from scratch with our all-in-one tool.
This ceramic bread mixing bowl with lid is your secret to bread baking success.
Mix + knead
The bread bowl fits on your 4.3L or 4.8L stand mixer in exactly the same way as any other mixing bowl. Mix your ingredients and knead them efficiently with the dough hook.
MIX + KNEAD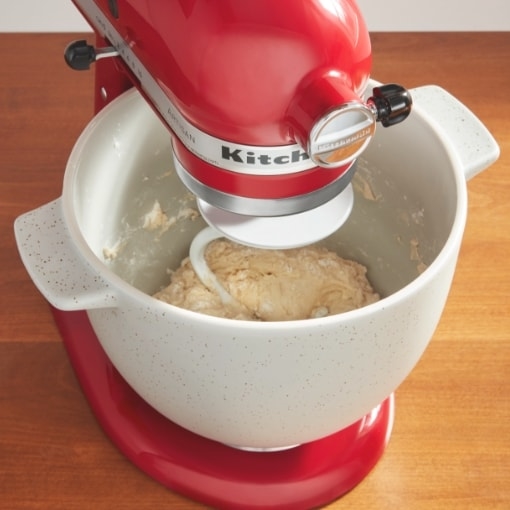 Proof
When it's time to allow your dough to proof, just leave it in the same bowl. An internal proofing guide helps you to gauge the rise level of the bread inside of the bowl.
PROOF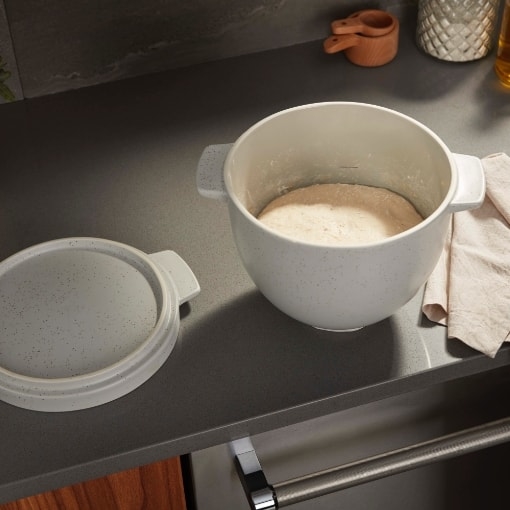 Bake
Highly durable, the ceramic dough bowl is safe to pop in the oven (up to 260°C). The lid traps steam when baking to create an environment similar to a traditional steam oven.
BAKE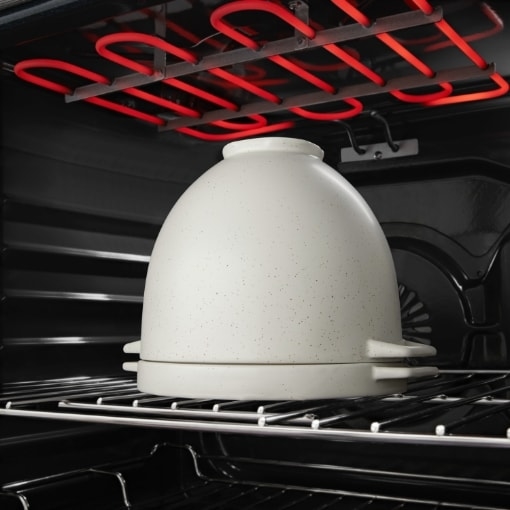 Serve
Be proud of your delicious homemade bread. Thanks to the even heat distribution, this convenient bowl means that every loaf will be thoroughly baked with a satisfying, crispy crust.
SERVE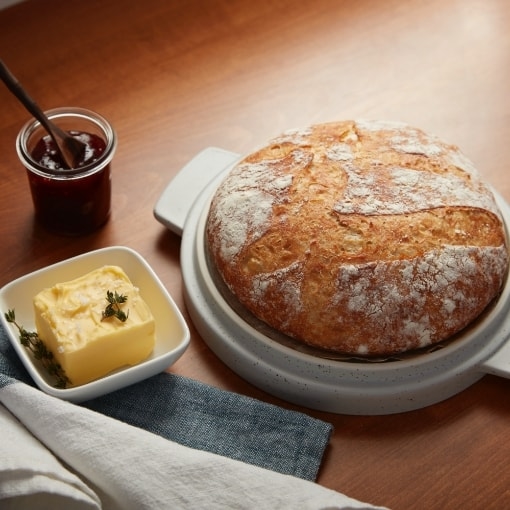 Easy and convenient to use
Love the idea of bread making but feel too intimidated to try? This dough mixing bowl makes it simple to bake bread dough recipes with up to 525 g of flour (makes about 450 – 680g loaf of bread).  You can easily scrape flour and sticky dough crumbs from the side of the bowl.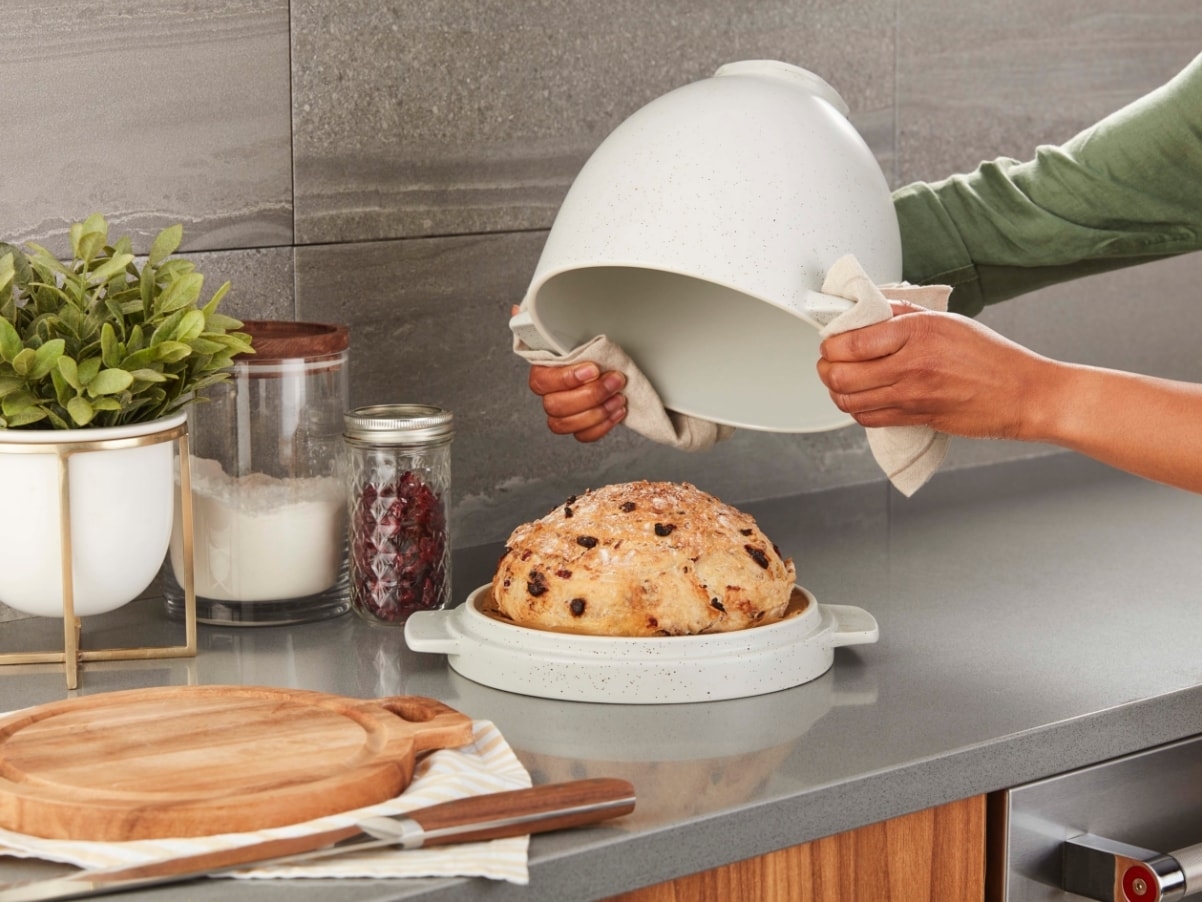 Beautiful and strong
The ceramic bowl not only looks great, but resists chipping, cracking, crazing, and is backed by a 5-year no-chip limited guarantee.
You can confidently pop it in the freezer, microwave, dishwasher and oven (up to 260°C). So along with making bread, you can use it to soften butter, temper chocolate, harden or cool in ingredients in a single bowl.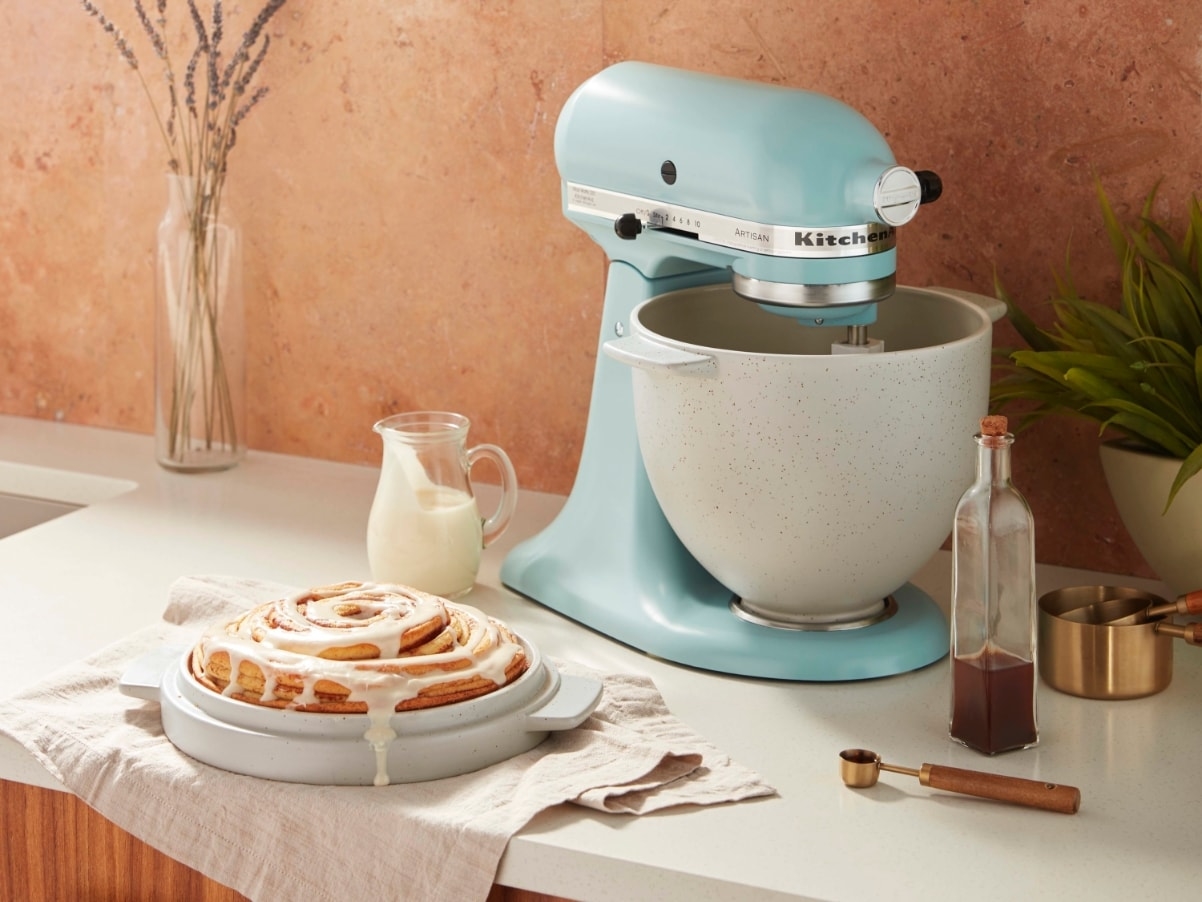 Delicious crispy crust
Look forward to soft bread with a gorgeous crust. The ceramic bowl design of this bread dough mixing bowl retains and delivers even heat throughout the baking process to give your bread a crispy crust and thorough bake. The wonderful smell of baked bread will soon fill the house. There will be a queue of people waiting to help you finish it off!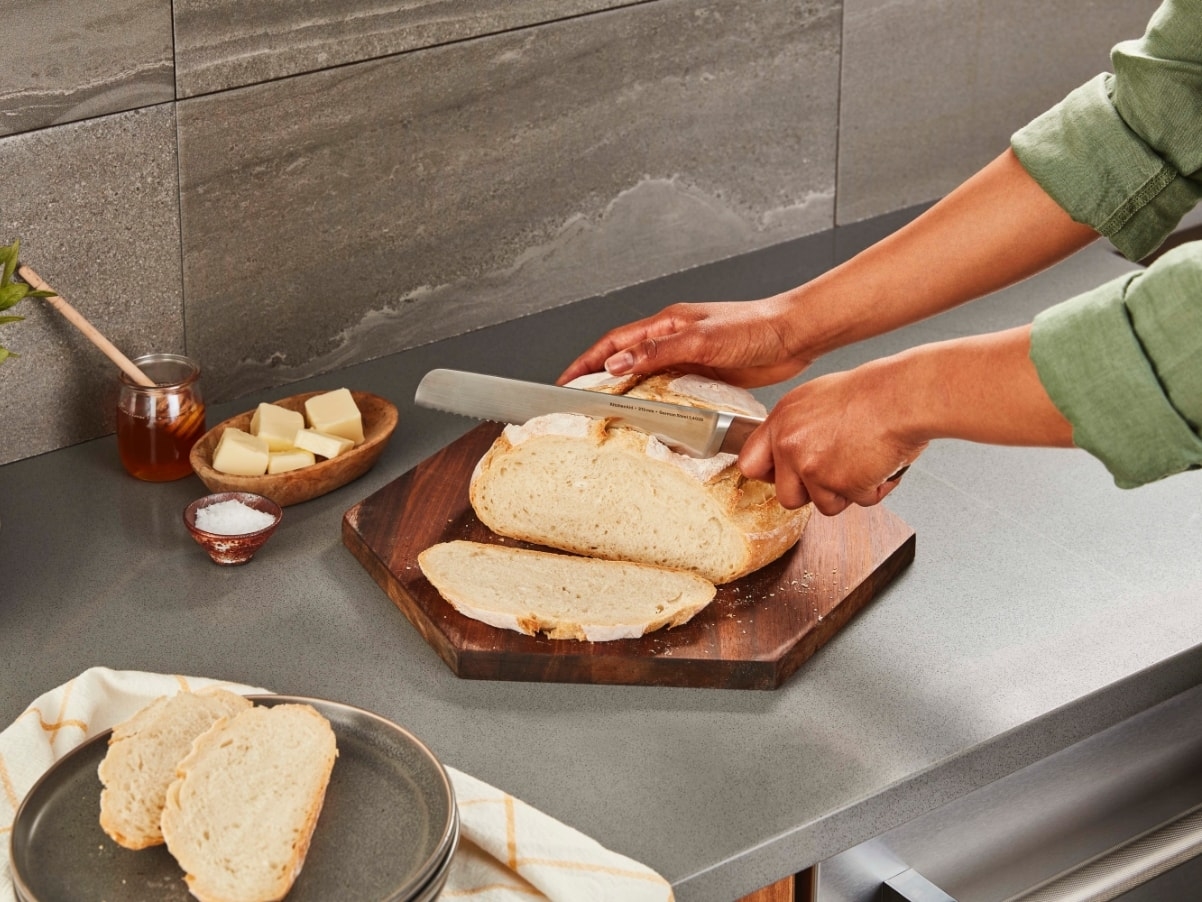 What is a dough bowl?
A dough bowl is a wooden bowl that is traditionally used for baking bread. The ingredients were mixed and kneaded inside the bowl and then covered and left to rise.
This bread mixing bowl with baking lid from KitchenAid is the convenient alternative for those who want to bake bread consistently and easily with a stand mixer. It's a contemporary answer which takes care of every step in the process, from mixing ingredients, to efficiently kneading, and then proofing and baking with craft-quality results.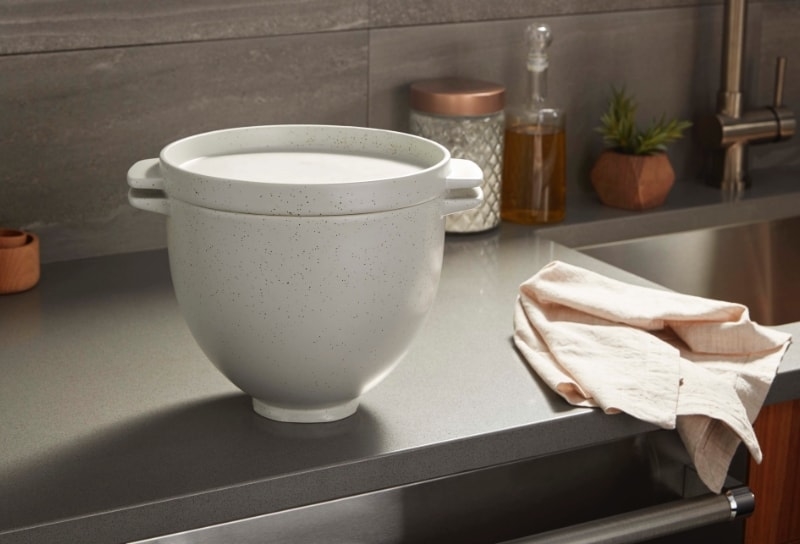 What size mixing bowl do I need for bread?
This innovative bread bowl has a 4.7L capacity which is ideal for baking a loaf of bread at home. It is designed to fit all 4.3L and 4.8L tilt-head KitchenAid stand mixers, processing up to 525g of flour to make a loaf of around 450 – 680g.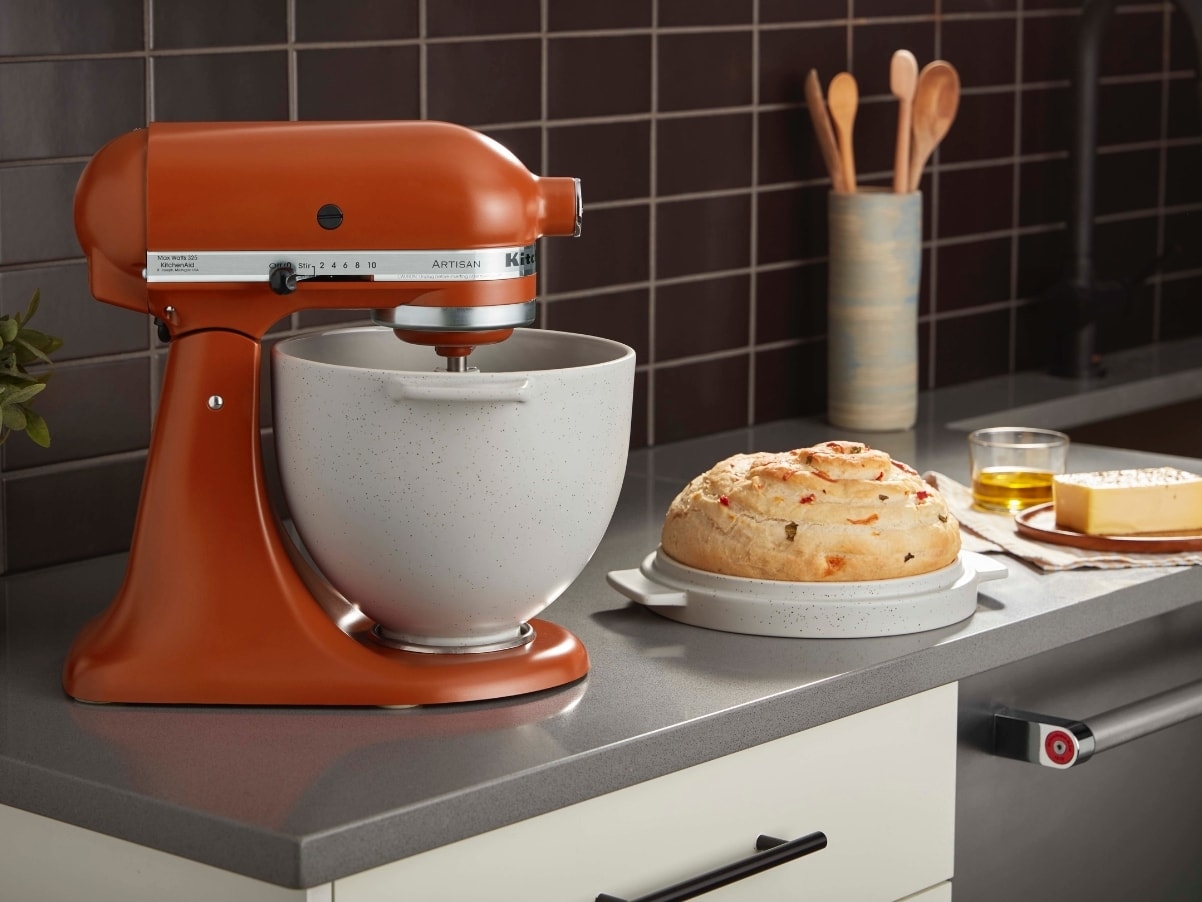 Elevate any meal with bread
From the awakening of the yeast, to the kneading of the dough, to the time spent waiting for the dough to rise, bake, and cool … there's something therapeutic about making bread.
Regardless of how many loaves of bread you've baked or recipes you've explored, the humble loaf of bread can make an everyday meal feel extraordinary.