Dyson V11 Outsize cordless vacuum (Nickel/Red),150% bigger bin. 25% wider cleaner head.
The most powerful suction of any other cordless vacuum, Intelligently optimises cleaning and run time, In the box:
High Torque XL, Laser Slim Fluffy cleaner head, Hair screw tool,Combination tool,Quick-release mini soft dusting brush,Quick release crevice, tool Charger, Wand Storage clip
'Point and shoot' hygienic bin emptying
The 'point and shoot' mechanism hygienically ejects dust and debris deep into your bin, in one action – so there's no need to touch the dirt, Powerful cleaning on floors and carpets,Bin volume 2l , Run time Up to 60 minutes, Three cleaning modes optimised for a variety of tasks, Powerful cleaning on floors and carpets,Unique battery power management system,Spins at up to 125,000rpm, creating the most powerful suction of any cordless vacuum,14 cyclones generate forces of 79,000g to fling dust into the bin without clogging the filter, so there's no loss of suction,
Dyson's fully-sealed, six-layer filtration system traps 99.7% of particles as small as 0.3 microns.Designed to absorb vibrations and dampen noise, to keep sound levels down, Height: 261mm,length: 250mm, Width: 1286mm
Charge time:4.5 hours, Weight: 3.2kg
In the box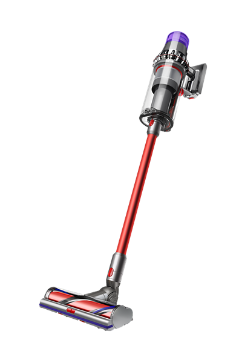 High Torque XL cleaner head
Quick-release mini soft dusting brush
Laser Slim Fluffy™ cleaner head
Intelligently reports in real time

Digital display shows run time countdown to the second and displays maintenance alerts, giving you complete control of your clean.

The right cleaning mode for the right task

Three cleaning modes optimised for a variety of tasks. The right balance of power and run time, where you need it.

Powerful cleaning on floors and carpets

An integrated digital motor spins the brush bar up to 60 times a second. It drives stiff nylon bristles deep into carpet to remove dirt, while carbon fibre filaments capture fine dust on hard floors.
Click-in battery pack

Remove and replace at the press of a button for even longer cleans. Click-in batteries can be charged on or off the machine.

Unique battery power management system

Dyson's power-optimising technology and battery-saving trigger help deliver up to 60 minutes' run time in Eco mode.²

'Point and shoot' hygienic bin emptying

The two-litre bin's 'point and shoot' mechanism hygienically ejects dust and debris deep into your bin, in one action – so there's no need to touch the dirt.
Drop-in docking

The Dyson Outsize vacuum drops into the wall-mounted dock, to charge it and tidily store tools. So it's ready to grab and go.

Extra tools for a variety of tasks

Five Dyson-engineered tools for versatile whole-home and car cleaning. Including the anti-tangle Hair screw tool for removing pet hair from upholstery and tight spaces.

Easy to maintain

The filter and Fluffy™ brush bar can be washed, and the bin and tools wiped clean, to remove dust build-up and help optimise your Dyson vacuum's performance.

Fade-free power

The seven-cell nickel-cobalt-aluminum battery has the fade-free power to clean here, there and everywhere around your home.

Powered by a Dyson Hyperdymium™ motor

Spins at up to 125,000rpm,  creating powerful suction.⁴

Radial Root Cyclone™ technology

18 cyclones generate forces of 79,000g to fling dust into the bin without clogging the filter, so there's no loss of suction.⁴

Advanced whole-machine filtration

Dyson's fully-sealed, six-layer filtration traps 99.99% of particles as small as 0.3 microns.⁵

Acoustically engineered

Designed to absorb vibrations and dampen noise, to keep sound levels down.

In-line configuration

The motor, bin and cyclone are aligned, so air is drawn into the cyclones in a straight line – helping to create powerful Dyson suction.
| | |
| --- | --- |
| Parameter | Value |
| Additional Features | |
| Additional Items | QR Soft Dusting brush, Hair Screw tool |
| Battery Voltage | 29.40V Max, 25.20V Normal, 18.55V Min, volts |
| Bin Capacity | 1.9 litres |
| Box Dimensions | 930 x 310 x 200 mm |
| Box Weight | 8.65 kg |
| Brand Name | |
| Brand Name | SV16 Outsize UK/IE/SA/AE SNk/Ir/Rd |
| Cable Length (Charger) | 1.8Metres |
| Charge Time | 4.5 hours |
| Colour | Sprayed Nickel/Iron/Red |
| EAN Code | 5 025155 068618 |
| Launch date | 01/11/2021 |
| Machine Height | 298 mm |
| Machine Length | 1276 mm |
| Machine Width | 320 mm |
| Motor Size | 545W |
| Motor Type | V10C |
| Noise Level | HP82dBA Stick Boost, 72dBA Stick Eco, 88dBA Handheld Boost, 74dBA Handheld Eco, dBa |
| Notes | Launch in UK/IE/SA/AE Display LCD UI Screen |
| Operational Weight | 3.56 kg |
| Part Sizes | Bin – large (1.9L), Battery Cell – Large (21700), Wand – 595mm |
| Post Filter | 1 month washable |
| Run Time | 5 mins Handheld Boost, 30 mins handheld Auto, 60 mins Handheld Eco, 5 mins Hardfloor Boost, 40 mins Hardfloor Auto, 60 mins Hardfloor Eco, 10 mins Carpet Boost, 20 mins Carpet Auto, 45 mins Carpet Eco, hours |
| Serial Number Prefix | T5P-UK |
| SKU Part number | 410871-01 |
| Suction Power | 220AW Boost, 49.5AW Auto, 24.9AW Eco, AW |
| Tool(s) included | QR Soft Roller Cleanerhead, QR Torque Drive, QR Combination tool QR Crevice tool |
| Warranty Period | 2 years |
| Parameter | Value |
| | |
| --- | --- |
| Parameter | Value |
| Additional Features | |
| Additional Items | QR Soft Dusting brush, Hair Screw tool |
| Battery Voltage | 29.40V Max, 25.20V Normal, 18.55V Min, volts |
| Bin Capacity | 1.9 litres |
| Box Dimensions | 930 x 310 x 200 mm |
| Box Weight | 8.65 kg |
| Brand Name | |
| Brand Name | SV16 Outsize UK/IE/SA/AE SNk/Ir/Rd |
| Cable Length (Charger) | 1.8Metres |
| Charge Time | 4.5 hours |
| Colour | Sprayed Nickel/Iron/Red |
| EAN Code | 5 025155 068618 |
| Launch date | 01/11/2021 |
| Machine Height | 298 mm |
| Machine Length | 1276 mm |
| Machine Width | 320 mm |
| Motor Size | 545W |
| Motor Type | V10C |
| Noise Level | HP82dBA Stick Boost, 72dBA Stick Eco, 88dBA Handheld Boost, 74dBA Handheld Eco, dBa |
| Notes | Launch in UK/IE/SA/AE Display LCD UI Screen |
| Operational Weight | 3.56 kg |
| Part Sizes | Bin – large (1.9L), Battery Cell – Large (21700), Wand – 595mm |
| Post Filter | 1 month washable |
| Run Time | 5 mins Handheld Boost, 30 mins handheld Auto, 60 mins Handheld Eco, 5 mins Hardfloor Boost, 40 mins Hardfloor Auto, 60 mins Hardfloor Eco, 10 mins Carpet Boost, 20 mins Carpet Auto, 45 mins Carpet Eco, hours |
| Serial Number Prefix | T5P-UK |
| SKU Part number | 410871-01 |
| Suction Power | 220AW Boost, 49.5AW Auto, 24.9AW Eco, AW |
| Tool(s) included | QR Soft Roller Cleanerhead, QR Torque Drive, QR Combination tool QR Crevice tool |
| Warranty Period | 2 years |
| Parameter | Value |