Devialet Dione is Devialet's acoustic engineering applied to home cinema: a high-end, all-in-one Dolby Atmos® 5.1.2 soundbar that elevates all contents on your television.
Dolby Atmos® | 101 dB SPL | 950 Watts RMS
A true all-in-one soundbar.
Seventeen autonomous high-end drivers, all powered by proprietary Devialet technologies, come together to deliver deep infrabass and crystal-clear treble. A plug-and-play way to enjoy a vivid, cinematic viewing experience in a 3D, 5.1.2 configuration. Do you dare to feel the crescendo?

"Deep, immersive and punchy bass"
Dolby Atmos
5.1.2
HDMI® 2.1
Bluetooth® 5.0
AirPlay 2
ARC & eARC (Audio Return Channel)
CEC
TV remote synchronisation
Devialet Dione won the EISA HIGH-END SOUNDBAR 2022-2023 Award. This Award reflects the pooled experience of EISA's expert magazines and is a fitting tribute to the innovative engineering and great performance of this soundbar.
Dolby Atmos
Enjoy sound that goes above and beyond. The Devialet Dione soundbar is Dolby Atmos-enabled, allowing it to provide a uniquely immersive, 5.1.2 surround listening experience. Originally designed for the film industry, Dolby Atmos delivers layered 3D sound from above, taking the Devialet Dione experience into another dimension.
SPACE™ technology opens up a new dimension of sound. A patented algorithm upscales any mono or stereo signal into a 5.1.2 signal for an all-enveloping, multi-layered, deeply immersive sound experience, whatever the content you're enjoying.
SPACE™ technology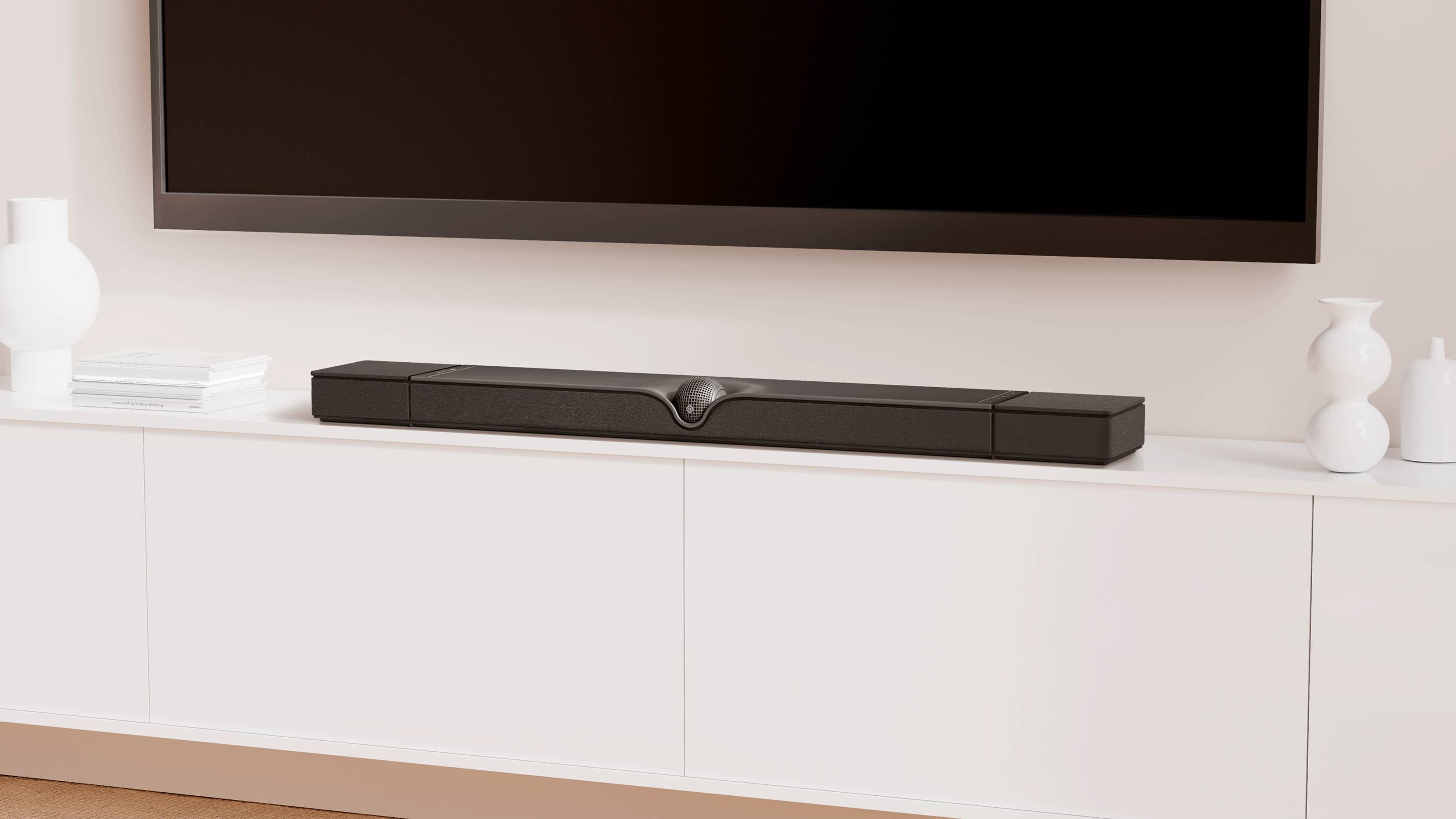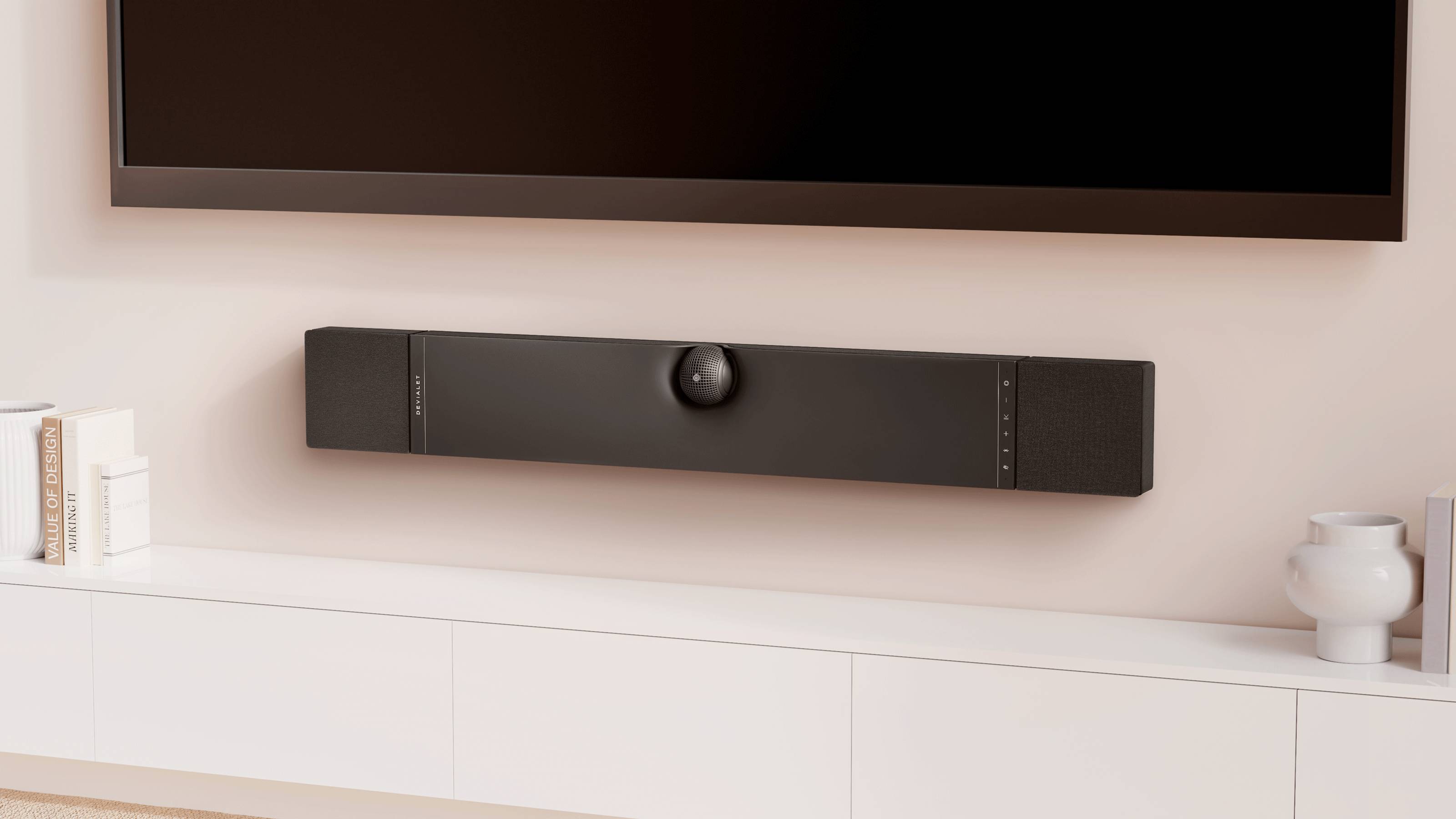 This mode converts mono and stereo content into a thrilling multichannel experience when connected via the HDMI® and Optical inputs.
A layered-sound setting that puts you center stage and lets you enjoy your music and content played through online sources at their best.
A custom setting for voice-forward content like podcasts, news programs, and more.
This mode reproduces a stereo setup and disables spatialization.
Specifications
Loudspeakers
17x Devialet custom neodymium drivers:
9x Full-range aluminium drivers
8x Aluminium long-throw subwoofers
Digital to Analog Converter
Devialet DAC embedded in Devialet intelligence Processor 24bits/96kHz
Processor
Devialet Operating System 2 (DOS 2)
4x ARM Cortex-A53 1.25GHz processor 1GB DDR3-800 memory
Power Supply
Devialet custom-built power supply
IEC320/C8 100-240 V~50/60Hz
High output with power factor correction (PFC)
Short circuit resistant
Power consumption : 0.5W (in standby)
Dimensions & Weights
Dimension
Width: 1200 mm
Height: 77 mm (88 mm with the sphere)
Depth: 165 mm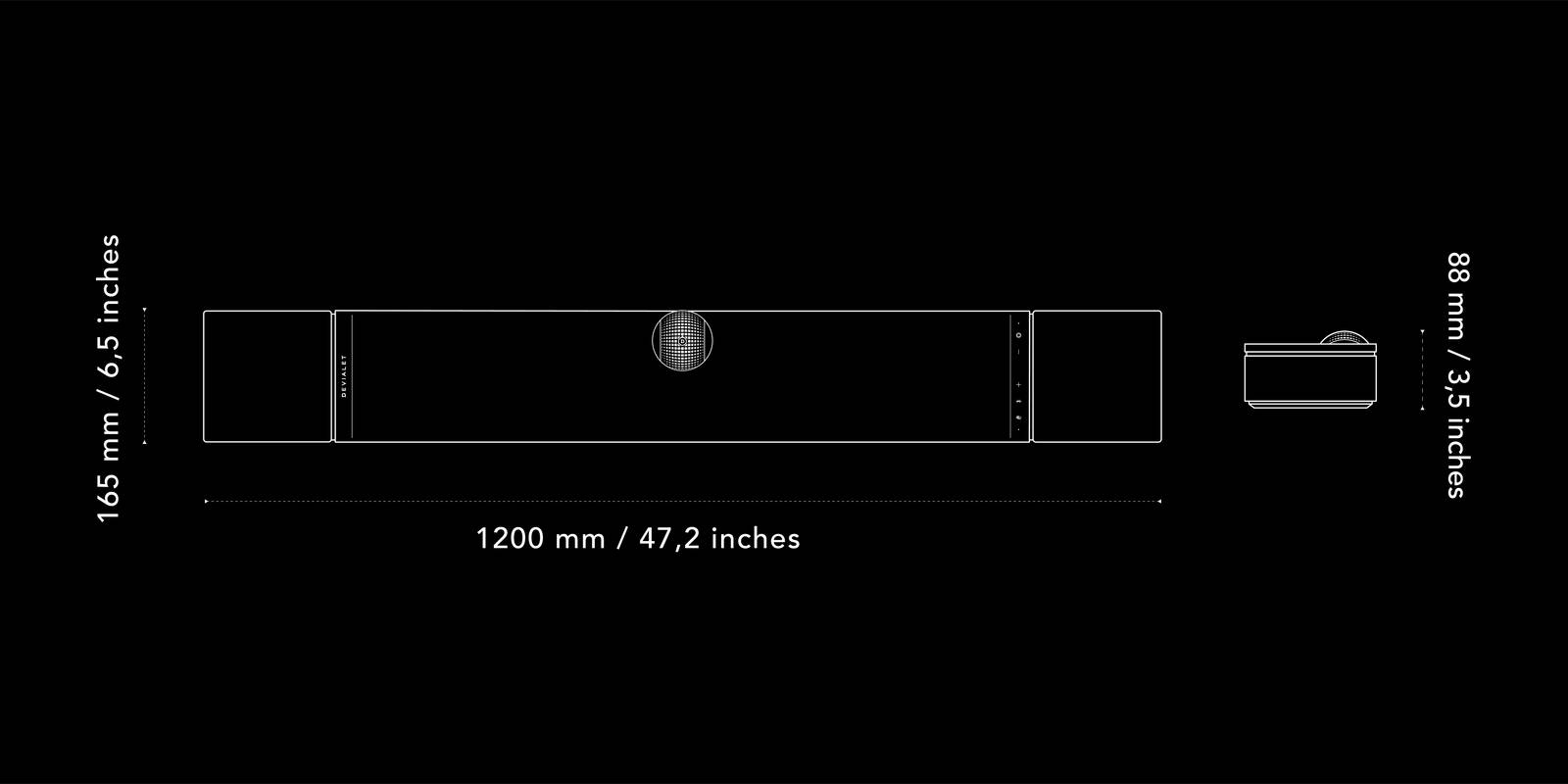 Performances
Maximum Sound Level
101 dB SPL at 1 meter
Total amplification power
950 Watts RMS
Frequency response (bandwidth)
24Hz – 21kHz
Features
Connectivity
HDMI eARC
Optique TOSLINK
AirPlay 2
Spotify Connect
Bluetooth 5.0
UPnP
Network
Wi-Fi Dual-band (802.11a/b/g/n/ac 2.4 GHz & 5 GHz)
Ethernet RJ-45 10/100/1000 Mbps (Gigabit)
Bluetooth 5.0
App
Devialet app (iOS, Android)
What's in the box
Devialet Dione soundbar

1x High Speed HDMI cable

1x TOSLINK Optical cable

1x Power cable

Documentation

Wall-mount guide & accessories
FAQ
Why don't we need an external subwoofer?
Devialet Dione already includes 8 high-excursion subwoofers configured in the same push-push configuration as Phantom. It has been created to be used as an all-in-one plug-and-play soundbar with no subwoofer or satellite speakers required.
Can it replace the home theater set up I have at home ?
Devialet Dione has been designed as an all-in-one sound system to enjoy multichannel content easily and at its best with only a single product. We do not aim to outperform traditional multi speakers setup but rather to offer a plug and play and wire-free solution with Devialet's state-of-the-art sound quality.
Is Devialet Dione compatible with DTS:X ?
No Devialet Dione is not natively compatible with DTS: X content. Nevertheless, you will be able to fully enjoy DTS multichannel audio through SPACE™ listening modes with DTS:X to PCM conversion.
Will a mounted frame or support be provided to FIX Devialet Dione on a wall?
Devialet Dione can be mounted on a wall with specific screws and dowels, full documentation and guidelines are available inside Devialet Dione packaging and on DEVIALET.COM.
Can I use the Devialet Remote to control Devialet Dione?
Yes, the DEVIALET REMOTE can be used with Devialet Dione in the same way you use it to control Phantom. You can also use your TV's remote to control Devialet Dione with CEC (TV remote sync). Please note that this requires an HDMI connection.