ICONIC QUIET. COMFORT. AND SOUND.
You feel it the minute you put them on. The soft, plush cushions seal you in. Then you flip the switch and whoosh — the world fades. The music starts, and it's love at first listen. That's the power of our next-gen QuietComfort® headphones, now with a best-in-class combination of noise cancelling performance and premium comfort, plus proprietary acoustic technology for deep, clear audio. Bose QuietComfort® 45 headphones — wireless headphones with a perfect balance of quiet, comfort, and sound you'll enjoy all day long.
Feels magical. But it's not magic.
It all starts with our Acoustic Noise Cancelling™ technology, the result of more than 50 years of research. We use tiny microphones hidden in the earcups to continuously measure, compare, and react to outside noise. That noise is then cancelled with an opposite signal, resulting in fewer distractions — and more of your music. Use the button on the left earcup to choose from Quiet Mode for full noise cancelling, or Aware Mode to let in some of your surroundings
QuietComfort® 45 headphones
Carry case
12″ USB-C charging cable
3.5 mm to 2.5 mm audio cable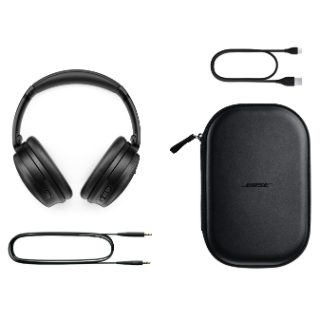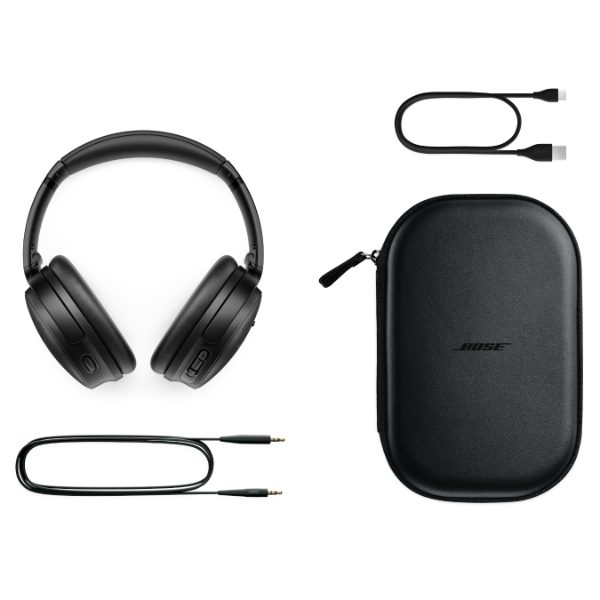 Headphones:

7.25″ H x 6″ W x 3″ D (8.5 oz)

Carrying case:

8.3″ H x 5.7″ W x 2″ D (6.64 oz)
Bluetooth range: up to 30 ft (9 m)
Bluetooth version: 5.1
Microphone array for voice pick-up built-in